Cologne, Wednesday August 31st 2022 -
Flames, laser beams, and Pokémon karaoke made for a welcoming ambiance, when entering the party bus that was arranged to take a significant part of the Abstraction team to Gamescom for two days.
During the trip there, some of the team members received snapshots of the Abstraction booth, which raised expectations and made the image of Abstraction's presence really come to life. We were part of the Holland Pavilion, located in the business area at Gamescom.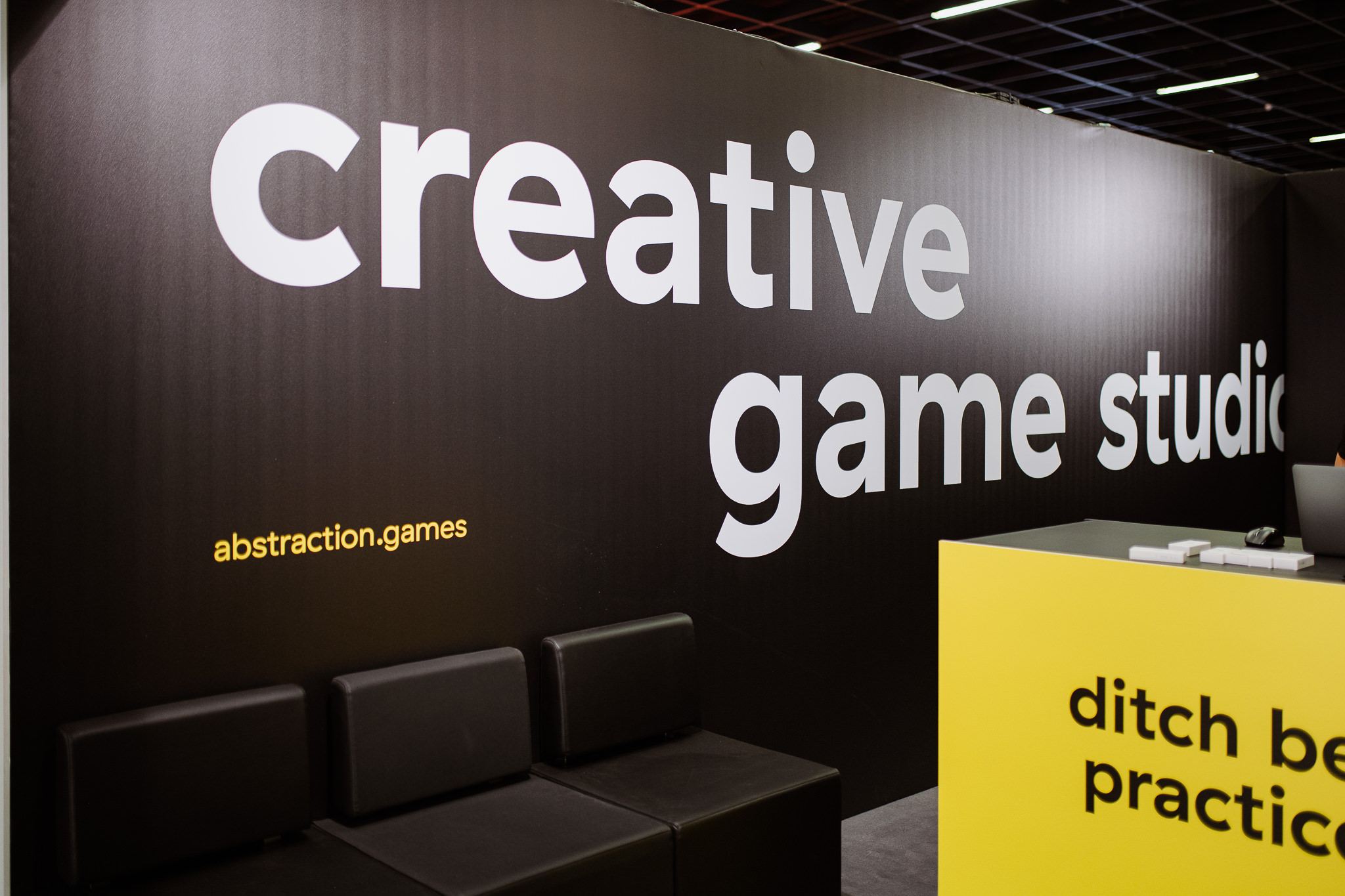 Arrival in Cologne
Imagine this: an Abstraction branded party bus, entering the main entrance lane of the Radisson Blu Hotel in Cologne, across the street from Koelnmesse - where Gamescom was held - blasting 'We will rock you' from Queen through its super loud speakers and spitting fire from the roof. Accompanied by the Abstraction team members, who came off the bus dancing and wearing yellow bodywarmers, while being cheered on by the members that were already present. Truly an epic moment for the Abstraction team.
"Where there is fun, there is a greater chance of working with genuine passion" - Ralph Egas (CEO)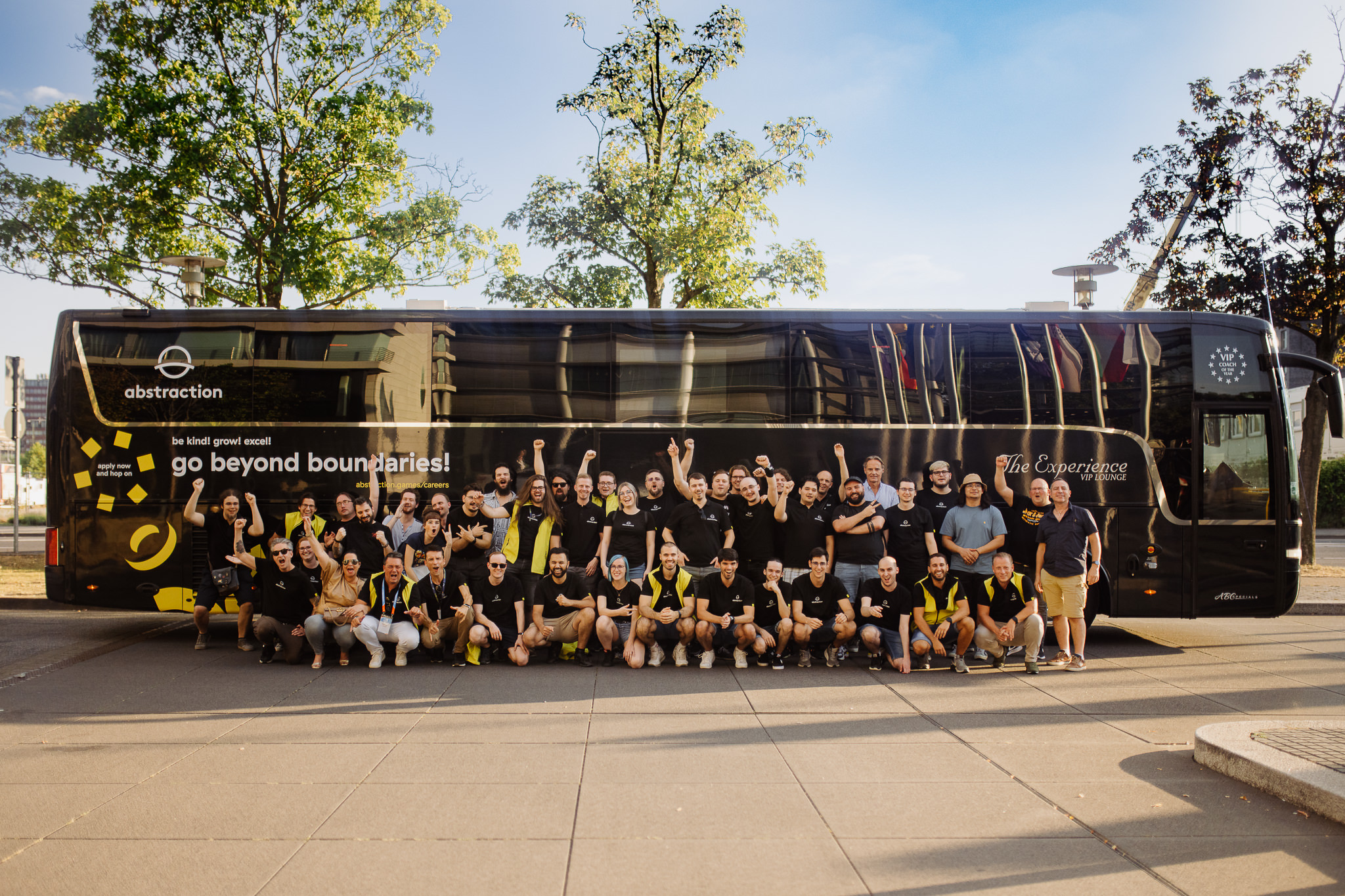 To the booth and beyond
Although the majority of the team arrived on Wednesday, Dominique (COO) had been in Cologne since Sunday, after which Ralph (CEO) joined him on Monday, straight after his holiday. This way they had more time to book the numerous appointments they wanted to have, and still had a chance to make a tour around the fair.
After the reunification of the team, we visited the Koelnmesse together. You know Gamescom is a major international event, yet every time you step into the Koelnmesse, you're blown away by the sheer size of it.
The goal: enjoying Gamescom as a team and making new connections along the way. Now picture 49 smiling people - in yellow bodywarmers and Abstraction t-shirts - strolling the fair, on their way to view the booth in real life for the first time. A short stroll turned into guerrilla marketing very quickly.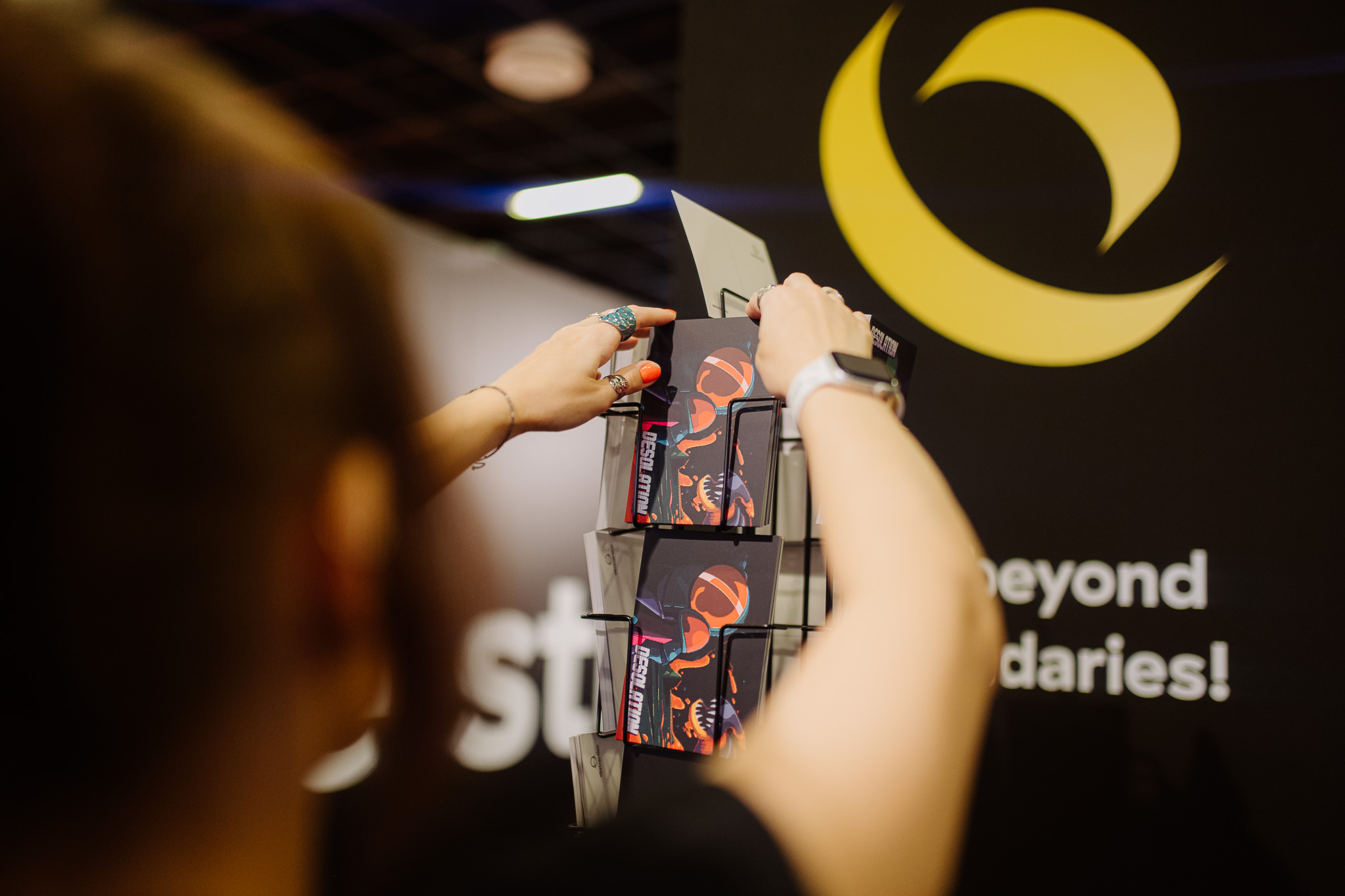 "It makes me incredibly proud that our people enjoy working on complex challenges and that it is resulting in exciting products." - Ralph Egas (CEO)
Besides the fact that having fun with employees was one of the purposes of visiting Gamescom, meeting with potential valuable partners and suppliers was another. Ralph (CEO) and Dominique (COO) were able to meet up with most of our partners (and several potential partners) in real life, and spoke with many high level executives about future projects and possible collaborations.
Amongst many others, there was a meeting with Jacky Collins, from Inferno Zilla. An interesting company with a lot of capacity, offering services in the field of Marketing and PR within the games industry. Which can play an important role, especially with the further growth of Abstraction, and the current creative focus within Abstraction.
Candidates for open positions within the team came by the booth, the Dutch Embassy visited to talk to Kirsten (CSO) about possible growth opportunities for the Dutch delegation and representation at the fair and Ralph (CEO) was asked to check out a prototype for an exciting VR music game, for which a follow-up meeting at the Abstraction office is scheduled later this month
When you attend great industry events like this one, you can be sure to run into some familiar faces. Just like we did at INDIGO, we met up with Tj'ièn Twijnstra. It was fantastic to see that an ex-Abstractioner is in such a great place. He was representing his own game called 'Text Express', that Ralph regularly enjoys playing.
Then we met up with John Day, who also worked with us. He joined our team on a typical German dinner on Wednesday, which was a great way to catch up.
All in all, there was an incredible enthusiasm and pride that could be felt within the abstraction team during the event. There were many fruitful conversations, meetings with remote team members for the first time and above all it was a lot of fun, which made it an adventure that exceeded all expectations.
Gamescom, we'll see you next year!
If you thought traveling back in the spectacular party bus was it, you are mistaken. A Hummer limousine was arranged to bring a selection of employees back home, as a prize for winning a photo contest that was held within the team during Gamescom. Not to forget, the short champagne break that was made on a truck stop along the highway.
Curious for an overview of our experience? Stay tuned for our after movie of Gamescom 2022!