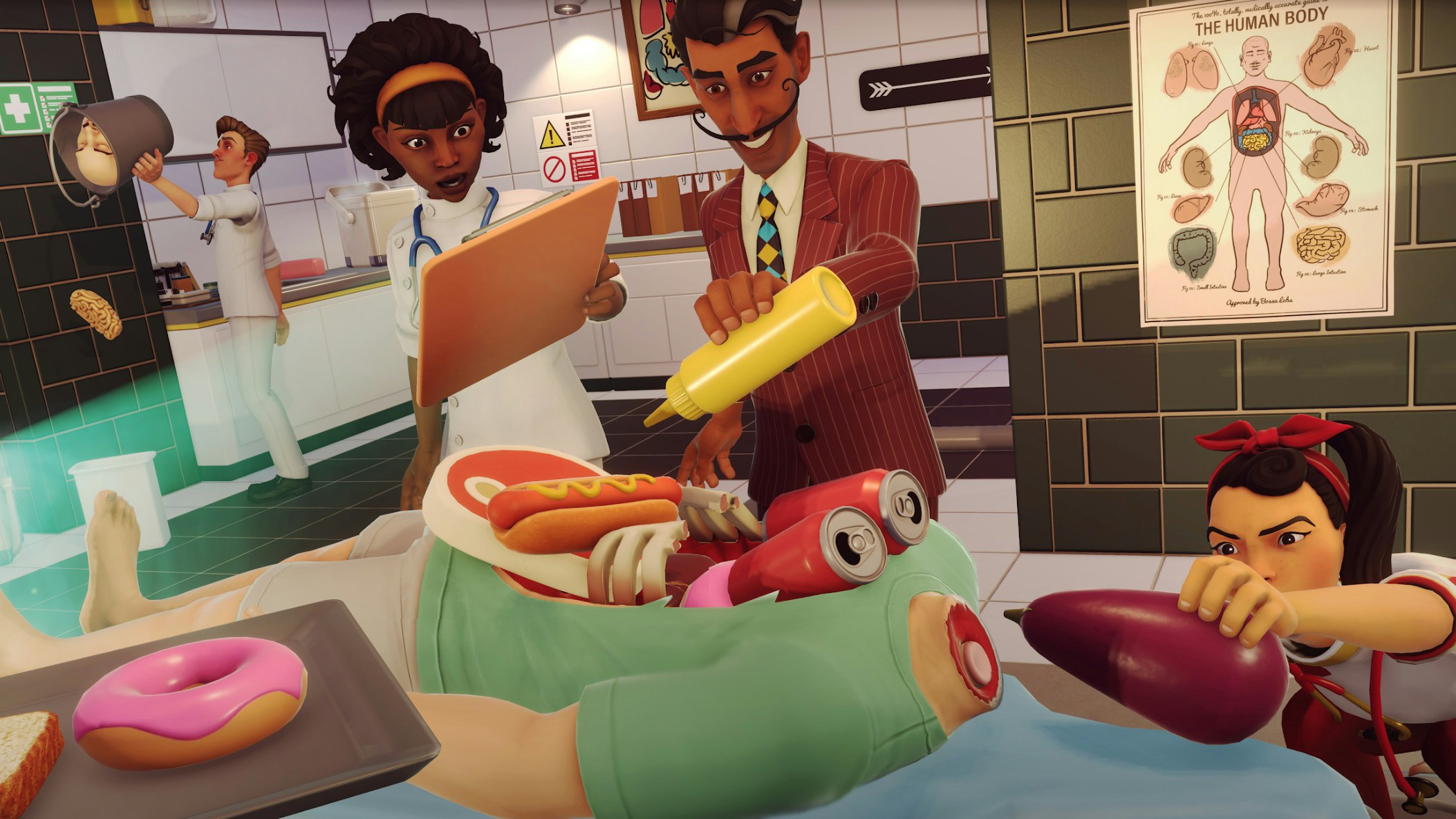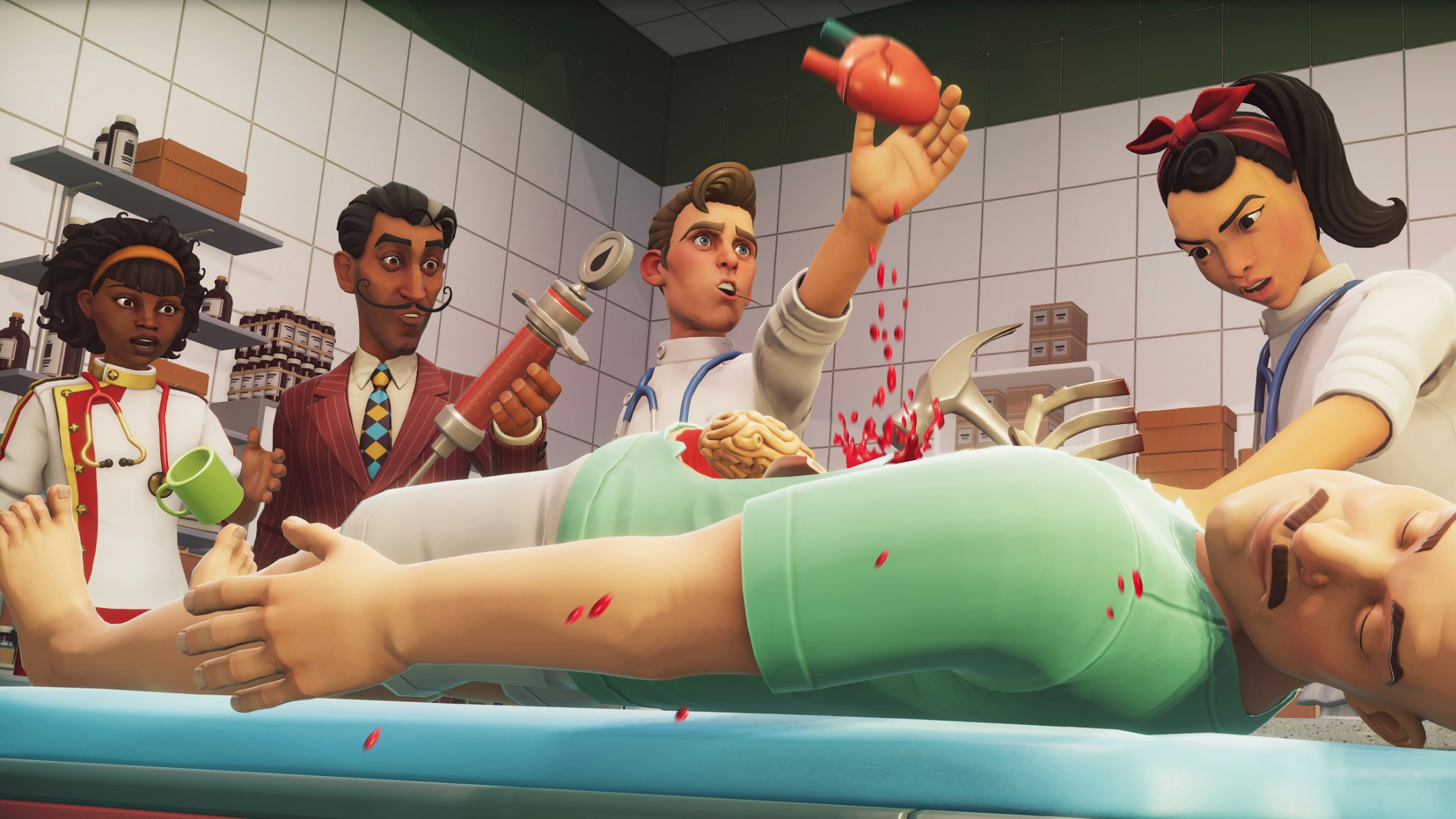 about the game
Surgeon Simulator 2 is the most recent instalment in the critically acclaimed Surgeon Simulator series. This time, the team is injecting a delirious dose of co-op adrenaline straight into the heart of the original game, cranking everything up to a whole new level.
A dream to break surgery free from the shackles of the establishment; to boldly snatch it from the grip of the bourgeoisie and put it in the hands of the hoi polloi. Four long-time friends decided it was time to teach surgery to the world and make surgeons of the masses!
And so, our co-founders set about creating a medical facility in which they could make manifest their grand designs. But as the saying goes, ask a Bardnardite for bread and they'll build you a bakery.
In other words, they got carried away.
What could have really just been four walls, a bed and a set of scalpels became BOSSA Labs. A cutting edge institution spearheaded by co-founder and architectural engineer, Doctor Pamela Preston. Labs is truly a place of wonder. It allows the friends to build literally anything they could dream of, and perhaps a few things they ought not to have dreamt.
With Labs running more or less smoothly, the founders turn their attention to putting the final touches on the Surgeon Simulator Training Programme. An improbably brilliant new system for teaching surgery to anyone and everyone. Once it's finally ready, the doors to Labs will fling open to the public and the medical revolution will truly begin.
But even the best of friendships can be testing, and before long, tensions rise amongst our co-founders. You see, certain co-founders have 'interesting' interpretations of the ethics of medicine. Some would argue that there is, in fact, no place for rebels, renegades or rabble-rousers in the world of surgical science. Whereas, others would argue that you can't make a long egg without breaking a few regular eggs which, in fairness, is true.
BOSSA Labs receives an unexpected surprise one day when four excited, if slightly bewildered, trainees turn up well ahead of schedule. The facility isn't exactly ready, they're still putting the finishing touches on and they've not even had a chance to tidy up.
Fortunately, Pam Preston is nothing if not enterprising, and shepherds the new arrivals through the fledgeling Programme. Pam hopes that the trainees will work out the kinks ahead of the big opening. Everyone loves beta testing unfinished programmes, right? (Credit: Surgeon Simulator 2 website)
about the project
Adaptation - Our assignment was to bring "Surgeon Simulator 2: Access All Areas" to Xbox One and Xbox Series X|S. This was an exciting prospect on multiple fronts since we got to work on a great IP, with a great partner in Bossa Studios, and it was our first opportunity to leverage 9th generation console hardware in such a project.
There were several really interesting challenges from both design and engineering perspectives, and we tackled them while working closely alongside the team at Bossa Studios. One such challenge was bringing the robust 'Creation Mode' to consoles using controller input.
This took several iterations to make sure that console players would be as unhindered as their PC counterparts, and would be able to create and share their levels with players across the Xbox family.
client quote